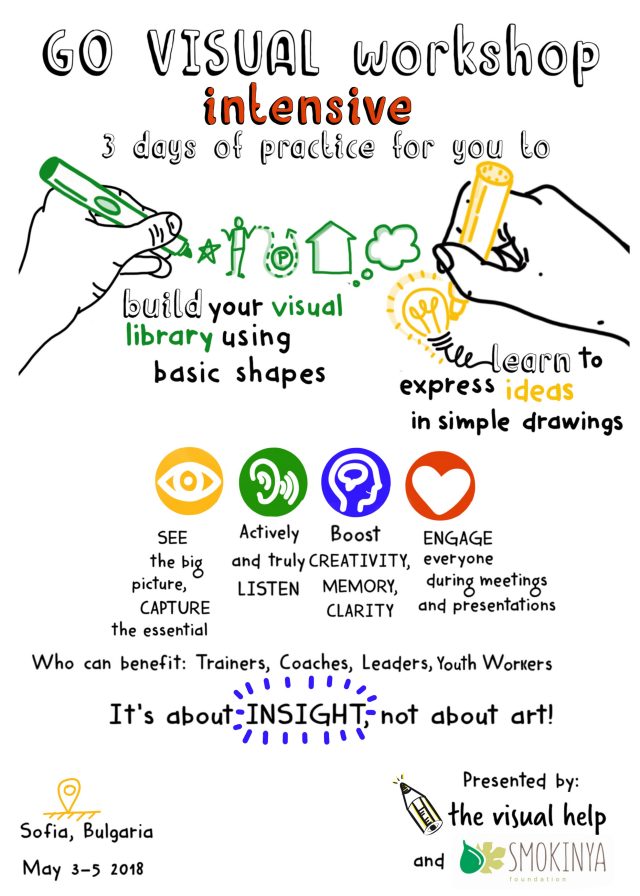 GO VISUAL Workshop will equip you with a case full of practical tools and an action plan to integrate visual thinking and creativity in your work routine every day. Visual communication is unstoppable power. Come and upgrade your skills.
NEW EXTENDED DEADLINE FOR APPLICATIONS!
20 April 2018
Nowadays, communication and information are unstoppable power. Content is created on a daily basis by billions. Skills to express, summarize, as well as to make comprehensive and understandable are important and essential. Would you agree with this?
You may choose to join our workshop which will give you some fresh insights and energy to continue what you are anyway doing in your daily life – working, living, contributing, learning and growing.
This is a 3-day intensive workshop that will allow you to:
1. Build your own visual library using basic shapes
2. Learn how to express ideas in simple drawings
3. SEE and CAPTURE the BIG PICTURE and the essential CONCEPTS and IDEAS
4. Learn how to ACTIVELY and TRULY LISTEN to content
5. Boost CREATIVITY, MEMORY, CLARITY
6. ENGAGE everyone during meetings or presentations and CREATE a SENSE of UNDERSTANDING
WHO IS IT FOR?
For people who want to create impact both within themselves and in their working environment.
• Youth Workers, Trainers, Coaches, Team leaders and managers
• Organisational Visionaries and strategic planning experts
• Project managers or coordinators
• Visual Storytellers
• Teachers and educators
This workshop is also for YOU to design and present ideas in simple, clear and convincing way – implementing and using graphic expression skills and drawing in your everyday life. And for people who want to boost creativity, clarity and presentation skills!
It is not about art, it is about insights, ideas, impact and ACTION.
We will combine effective visual thinking methods with on-spot coaching and practical tools to create visual practice immersion.
Check out the attached info letter for full details.
Apply NOW by filling in the Application form.
https://goo.gl/forms/PX2XxwS6X6naphcI2
Should you have a question, contact us: info@smokinya.com.
This is an open call workshop.
Training overview
This Training Course is for 16 participants from Erasmus+: Youth in Action Programme countries , Other countries in the world , Partner Countries Neighbouring the EU and recommended for Youth workers, Trainers, Youth leaders, Project managers.
Working language(s):
English
Organizer:
Smokinya Foundation (NGO/Others)
Smokinya Foundation contributes in creating a world that works for everyone.
In our core we act out of love, care and cooperation.
Smokinya Foundation serves as a learning platform for individuals who are ready to commit to their own learning and development needs. We create opportunities and provide space for people to learn, contribute and grow by participation, volunteering and project leadership.
Our approach is heuristic – a method for empowering a person to discover or learn something for themselves. Smokinya provides an alternative context of learning – experiential, 'hands-on' or learning by doing.
Smokinya Foundation realizes its vision and values through youth work. Youth work for us is providing contexts and playground for exploration and discovery of the inner spirit of youth that individuals, groups and organizations posses. From this point many outcomes are possible on different levels and in different areas.
Costs
NEW EXTENDED DEADLINE FOR APPLICATIONS!
20 April 2018
This is an open call project. It is NOT financed by any grant. There is NO travel reimbursement.
Participants cover their travel, participation fee, accommodation and food.
FINANCIAL SUPPORT
30% discount for youth workers without paid jobs.
PARTICIPATION FEE
400 EUR for people from Central and Eastern Europe and other countries
550 EUR for people living in the Netherlands, Austria, Belgium, Luxemburg, Germany, France, United Kingdom, Iceland, Norway, Sweden, Finland, Denmark and Switzerland
RESERVING YOUR PLACE
50 EUR non-refundable deposit to be paid to reserve a place.
The rest is paid by April 26, 2018.
Check the attached info letter for full details.