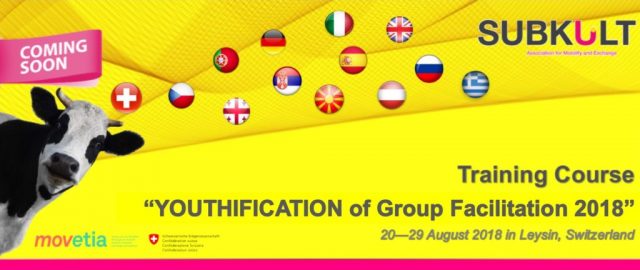 The training course "YOUTHIFICATION of Group Facilitation 2018" organized by Subkult, is the third edition of the set of training courses for youth workers.
Subkult identified that the work with young people is mostly done in groups. Youth workers have a need to always improve their competences in managing youth groups in order to achieve their goals. We recognise the area of facilitation competences as a crucial element in youth work and that is why we would like to contribute into the development of these competences among youth workers from Europe.
Facilitation as a method has been incorporated by many youth organisations and groups as a tool which will enhance the integration, inclusion, involvement, participation and equality of all members of a community. Facilitation enables and empowers young people to carry out a task or perform an action. The facilitator does not perform the task, but uses certain skills in a process which allows the individuals/group reach their decision/ set their goal/learn a skill. Facilitation is a developmental educational method which encourages people to share ideas, resources, opinions and to think critically in order to identify needs and find effective ways of satisfying those needs.
The main aim of this training course is to train youth workers who work with groups of young people to ensure the highest quality standard in organising, implementing and evaluating workshop sessions with different groups by developing strong facilitation competences.
The specific objectives are:
– To increase participants' knowledge and understanding about group work and group dynamics
– To develop participants' skills for facilitating group processes with special emphasis on verbal and non-verbal communication
– To explore different methodologies and concepts within non-formal education that can improve the quality of group work
– To offer participants a safe learning environment for trying out the tools and methods they learned by implementing small workshop sessions
– To increase participants' awareness of providing and receiving constructive feedback as a very important learning tool
– To promote and support intercultural learning as core principle when working with groups of young people
– To present to the youth workers the different learning opportunities on European level that are offered by the Erasmus+