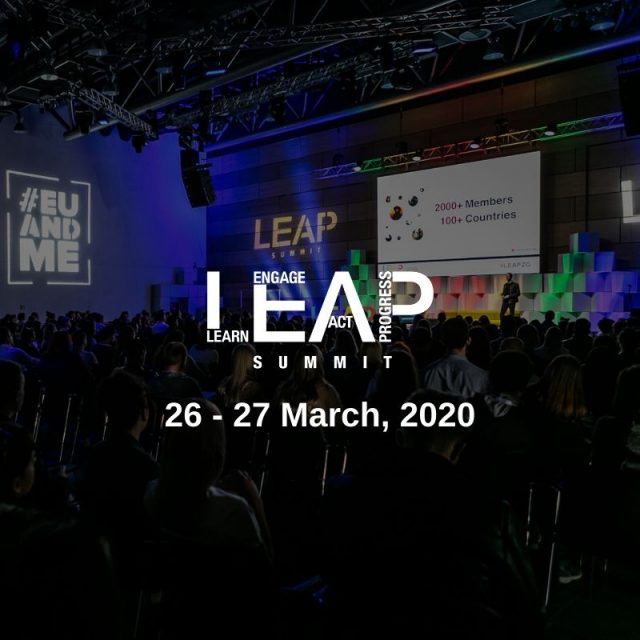 We would like to invite you to participate at international conference "LEAP Summit", which will be held in Zagreb, Croatia from 26th till 27th March, 2020.
Want to learn from world-renowned speakers from multinational companies, successful entrepreneurs and leading investors from Europe? You are entrepreneur, student, young professional, NGO leader or ambitious person? Then LEAP Summit is the right place for you!
LEAP Summit brings people from more than 40 countries at one place to learn and act together in order to solve most pressing challenges of our time. LEAP Summit will be held in Zagreb, Croatia from 26th till 27th March, 2020. Before the
Summit from 24th – 25th March will be held Pre-Summit.
Pre-Summit will bring specialized workshops, hackatons, ideation challenges and meetups.
In 2020. LEAP marks the 5th edition. Also, the conference is under the patronage of Croatian
Presidency of the Council of the European Union.
What you can expect from LEAP Summit 2020?
• 60+ world-renowned speakers from various industries
• Thousands of people from all EU countries
• Parallel stages and program, so you can always find something useful for yourself
• Amazing networking opportunities and inspiring talks
• International FLEAP Out party and celebration of 5 years of LEAP
Participation at LEAP Summit is free of charge for all selected applicants. You can apply at: https://leapsummit.com/apply-now/
For more information, please check:
Website: https://leapsummit.com/
Facebook page: https://www.facebook.com/LeapSummitZagreb/
LEAP 2019 video: https://www.youtube.com/watch?v=wjZAxiFf068
Looking forward to see you in Zagreb!
LEAP Summit Organizing Committee